Waves
Simeulue Island rhymes with uncrowded and perfect reef breaks. You will find here many options, whether you like fast, heavy and sucky barrels or long, super fun and playful walls. This island provides consistent waves all year long as it is open to a huge swell window. In short, bring plenty of sunscreen and your best boards and come join us for a wave-hunt.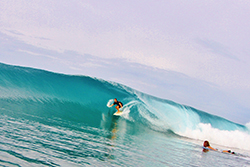 Dylan Right
Dylan point is 3 min away from the camp. It is our garden playground and our favorites. This wave is a perfect, mechanical right hander breaking on live coral reef. As soon as you get 3ft on the report, Dylan begins to do its magic and gives you sucky and punchy barrels. You will fly at high speed into this wave like nowhere else. It is adapted to intermediate to experience surfers.When small its fun with the local kids, and guests to can have a ball. You will get some great camera shots of your mates surfing this one as the wave angle from the shore is perfect.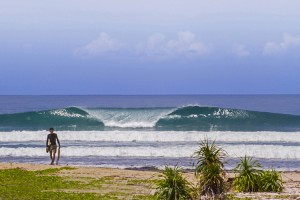 The Peak
This wave is a very consistent and super fun A-frame peak that works on all tides and swells and breaks on rock and sand. It can handle 8 ft plus and features nice wall sections, hollow barrels and fun air sections at the end. The left is slightly longer than the right. It is fun for intermediate to experienced surfers. It can accommodate beginners on small swells. You will easily find this wave following our map and advice 25 min away from the camp on our motor scooters.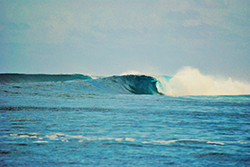 Tea Bags
It is a smoking right hander breaking on shallow reef: the Indo wave by definition, surrounded by amazing tropical landscapes. It gives long and heavy barrels and handle massive swells (10ft plus). We recommend an experienced level to go surf the scary beast when it gets big. It needs 4ft at least to do its trick. Ask us to organize a local boat to bring you to it as it is on the small island 40 min away by boat in front of the surfcamp. Booties on!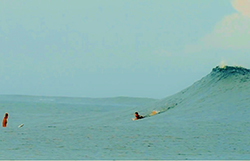 Thailand
This one is a long and playful left hander breaking in deep water over live coral. It displays 200m of steady wall, holds big swells and is easy to ride. The take-off on big size can become impressive as the wave moves huge amounts of water. Almost anyone can have a crack at Thailand. It is adapted for both short and long boarders and fun for intermediate to experienced if you sit deep enough. It is accessible by local boat (5min) after a 40 min journey on scenic roads on the scooter following the island's pristine coastline.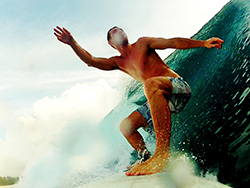 Dylan's Left
This left hander is located 5 min away from the surf camp, on the other side of Dylan's point. The quality of this wave increases with its size and it will give you a super fun left reef break when you get a fully south medium swell. It is less perfect and mechanical than Dylan but still offers long and playful walls and receives more swell. It is also a good option when Dylan's is onshore.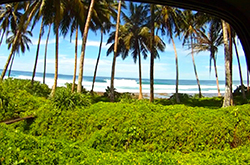 Secret Reef
Take your scooter, your helmet and your board and go explore the south west of the island and you will find on the way some worthwhile secret spots. One of them is a fun peak that you'll find not far away from a big mosque.
Here's some local shots below to start pumping that enthusiasm (tip: click on image to enlarge)